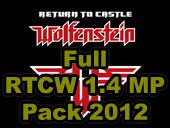 Full RTCW 1.4 multi-player pack 2012 (without SP) which one is based on the released RtCW MP source code (GNU) of ID. Playable with ET generated keys!

Komplettes RTCW 1.4 Multiplayer Pack 2012 (ohne Singlepayer), welches auf die freigegebenen RtCW MP Source-Codes (GNU) von ID bassiert. Spielbar mit ET generierten Keys!
Included in this pack:
- Return to Castle Wolfenstein multiplayer 1.41 (without singleplayer).
- Updated latest punkbuster and pb service installer.
- Popular mods (osp,shrub soundpack,fritzbot,ktbani,omnibot,wolf statanalyzer,wolftv).
- Standard, GOTY and must have maps.
- Full config with binds.
- And more.
Maps included:
Standard maps: Assault, Base, Beach, Castle, Depot, Destruction, Sub, Village
GOTY map pack: Ice, Chateau, Keep, Tram, Dam, Rocket, Trenchtoast
Axis Complex, Base2, Basement, Church, Escape 2 TE, Foo Fighter TE
Frostbite TE, Garage, Infamy, Kung Fu Grip, Multi demo, Pacific
SupplyDepot B2, The Bad Place, Tundra Rush B1, Valhalla Station, Wizernes Base
Install instructions:
1. Run RtCW14pack.exe (as administrator).
2. Click a couple of times on next until it's finished.
3. Change the properties of the new "RtCW 1.4" icon on your desktop.
4. Set compatibility to Windows XP (Service Pack 2). Set Run as administrator.
5. Run PB Svc Installer (from Start Menu) and install services (ignore possible errors).
6. Start the game, goto options, and enter your cd key.
7. If you don't have a cd key, run the included KeyGen (from Start Menu) to make one.
8. Or simply buy the game for 5 bucks and enjoy all servers.
For updating your current 1.4 refer to: ECG Install/Reinstall procedure.
NOTE:
You can also use this ETKeygen for RtCW (without using the Fairlight Keygen). Run and install the ETKeygen Application.
Generate a key and save the file as "rtcwkey".
Place it to your RtCW "Main" Folder. 100% Working on Punkbuster secured Server !!! Have fun
DO NOT OVERWRITE ORIGINAL KEYS!!!
FIRST MAKE A COPY OF ORIGINAL KEYS AND SAVE IT!!!


Quelle: Crossfire | Wolffiles | wolfmp.com