Wir gratulieren zum achtjährigen Geburtstag
von Return to Castle Wolfenstein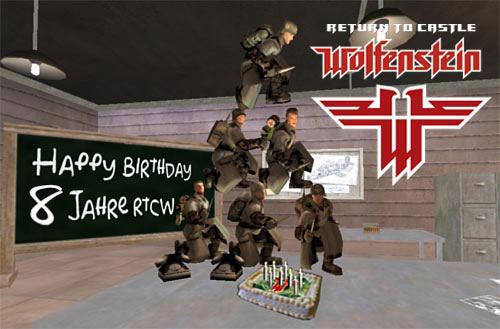 Genau vor 8 Jahren, war offizieller Verkaufsstart in Deutschland für unser beliebtes Single- und Multiplayergame Return to Castle Wolfenstein, kurz RtCW.

Viele schöne Jahre hat uns der Ego-Shooter-Meilenstein, der das Teamplay revolutioniert hat, bis jetzt beschert.
Auch wenn der Zahn der Zeit unaufhaltsam nagt, und RtCW allmählich müde wirkt, werden auch Heute noch heiße Schlachten um Dokumente und Flaggen ausgetragen.
In diesem Sinne - HF & RtCW4ever!