Overview
This project will contain an entirely new way of playing Enemy Territory. Users will be able to create their account and play instantly after downloading the browser plugin and downloading the base of ETLive. One major issue this resolves with ET, is that it eliminates issues in players finding their first game, going from 2.55 to 2.60 and then to 2.60b, and then having to proceed to download a vast number of pk3 files when they finally get on to joining a server.
Once your account has been created on ETLive, and you are ready to play, you can invite your friends using the in-browser buddy system or join your friends in their games in progress.
As the current releases of Enemy Territory, ETLive will have dedicated servers, but with more functionality. ETLive supports ranking and achievements, meaning that you can play your games for profile achievements and work to build your score up and possibly work your way up leader-boards, or just outrank your friends. Of course achievements are not entirely the focus of the game, and they're there just to improve your experience and enjoyment of the game. YCN will be supporting game-servers on ETLive and are closely working with the development and helping as much as possible to ensure that this project is as enjoyable and successful as possible.
Competitive support
Of course if there is YCN, there will be GamesTV! We hope that the release will swiftly also have a TV protocol similar to the current features and performance of the current protocol, this should ensure that the competitive scene is taken care of also in the potential move over to ETLive. The competitive side of Enemy Territory is also important to the success of ETLive, we have also been in talks with TZ-AC about the future of anti-cheat on a new Enemy Territory client and anti-cheat will be implemented into ETlive from day one.
Unique features
As we mentioned before, it is hard for new gamers to join, however with the appearance of the currently client, players may be discouraged to try ETLive also. We are considering potentially improving the appearance of the client for ETLive which will possibly bring in new players. Another feature is potential new game modes such as Domination, which is in current Call of Duty style games.
Current setbacks
You may be thinking "Well this is just going to go a month and be forgotten", well ETLive has currently been on and off in development for a long time, and has been kept quiet to avoid legal issues. Ideas have come to light about how to avoid these, and keep ETLive as secure as possible, and ETLive is in a stage at the moment where it is loaded into the browser and playable. We say this but please note, it is a far way to go.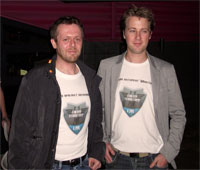 Apologet and Dutchmeat
(ADROITS LAN)
Who are we?
ETLive is a very small project at this time, and there are only 2 main developers, and other people who are contributing other stuff into the project. The two developers are Kai "Apologet" Rathmann, and Eamon "Dutchmeat" Woortman. Both developers are from the RTCW scene in the past, and have ran communities in Enemy Territory and RTCW in the past.
The near future
The intention now is to release a closed Alpha by December and to have basic LUA support from day one. The Alpha will be very limited and unfortunately only invitational, however we will keep you updated on the development at our website which will contain development news at http://etlive.entirely.pro/ where we and YCN are active.
Be sure to follow our progress and keep up to date on our website, we promise to keep you updated with news and updates.
So aus dem Titel heraus, fragen sich einige vielleicht was dieses Projekt genau ist und einige haben bereits eine Vorstellung davon. Grundsätzlich ist ETLive wie Enemy Territory, also das Spiel, was wir alle spielen und Lieben, nur über einem Web-Browser. ETLive ist eine Enemy Territory Multi-Plattform-, Multi-Browser-Umsetzung, mit sehr ähnlichen Intentionen wie von Quake Live.
ÜBERBLICK
Dieses Projekt enthält eine völlig neue Art des Spielens von Enemy Territory. Benutzer können ihr Konto erstellen und sofort nach dem Download und Installation, des Browser-Plugin und dem Herunterladen der Basis, ETLive spielen.
Ein großes Problem wird mit ETLive gelöst. Es beseitigt die vielen unnötigen Schritte die Enemy Territory hat, um es "spielbar" zu machen. ET-Versionswirrwar, lästiges updaten und das herunterladen von vielen pk3 Dateien entfällt.
ETLive wird dedizierte Server haben mit den aktuellen Versionen, aber mit mehr Funktionalität, wie zum Beispiel: Rankingsystem, Profilsystem, Freudesliste, neue Spielmodi, einem Anti-Cheat-System und einiges mehr.
WER STEHT HINTER ETLIVE?
ETLive ist zur Zeit ein kleines Projekt mit 2 Haupt-Entwicklern und ein paar anderen Personen die dem Projekt mit beitragen. Die beiden Entwickler sind Kai "Apologet" Rathmann und Eamon "Dutchmeat" Woortman. Unterstützt wird das ganze von YCN.
Neuigkeiten gibt es auf http://etlive.entirely.pro/ wo YCN aktiv ist und über die weitere Entwicklung berichtet. Es wird im Dezember eine geschlossene Alpha geben, allerdings wird diese sehr klein sein und nur für einige Auserwählte.