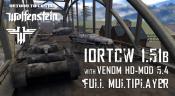 Return to Castle Wolfenstein - ioRtCW installer with RtCW Venom HD-Mod for Multiplayer !!!
This is a "Return to Castle Wolfenstein" multiplayer installer, which installs an HD version of the multiplayer game, including all the HD weapons, uniforms and textures from "RtCW Venom Mod", created by Hellbaron89.
The ETc|Clan has a new "RtCW MP" server up and running for us all to test this excellent new addition to the game we all love so much. The new server appears in the "RtCW MP" serverlist. However, if you want to join it quickly, just connect via this "ip" address: /connect clan-etc.de:27990
This installation also contains lots of the most popular custom maps and has vastly superior download speeds, when connecting to an "ioRtCW" server. HD screen resolutions and widescreen mode are now available too!
You DO NOT need a copy of "Return to Castle Wolfenstein" in order to play "ioRtCW MP". This version doesn't contain the singleplayer version of the game. If you want the whole game you must purchase it:
Return to Castle Wolfenstein on "Steam" HERE (Not available in germany!)
Data

Details
Mod
Typ
exe
Size
1,15 GB
Downloads
482
Author
ETc|Jay, Hellbaron89, MAN-AT-ARMS
Website
Homepage
Created
11.09.2017