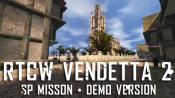 This 3-map adventure, although still a work in progress, has made superb progress already and it has been a real pleasure to test it.
Hopefully, after this successful demo version, Yo$hik will continue his work on this superb project and our "RtCW" Community will get to play this singleplayer mission in its entirety. In the meantime, download and enjoy these excellent maps.
Installation Information and how to play: Unzip to your C:Program FilesReturn to Castle Wolfenstein folder.
Play using the shortcut called "Vendetta_v1_2" and when the main menu appears, click in play button and after choose your favorite skill.
If you have RTCW installed in another directory, you must to edit shortcut.
Data

Details
SP-Map
Typ
exe
File name
vendetta_setup.exe
Size
1020 B
Downloads
860
Author
Yo$hik
Website
Homepage
Created
22.10.2017