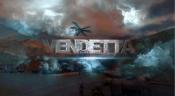 Yo$hik has now released his RtCW SP Mission, Vendetta. This excellent release contains new weapons, a new soundpack, new models, great graphics and much more. This is a "must have" for all Return to Castle Wolfenstein fans, old and new.
You do NOT need a copy of Return to Castle Wolfenstein in order to play Vendetta, it is a "stand alone" game with it's own installer, so download and enjoy this epic adventure.
(The Mission)
Allied Intelligence has learned that the German military are developing a revolutionary new aircraft, "Helicopter" combat prototypes, which can destroy armored vehicles and infantry. You are a resistance fighter who has the task of eliminating all important personnel of the Third Reich who are connected with this new project. Your mission becomes even more difficult and more important,  as you must also find real evidence and documentation of the project before these military prototypes are able to take to the battlefield.
---
 Yo$hik hat seine Return to Castle Wolfenstein SP-Mission Vendetta veröffentlicht. Diese ausgezeichnete RtCW SP-Mission enthält neue Waffen, ein neues Soundpack, neue Modelle, tolle Grafik und vieles mehr. Dies ist für alle alten und neuen RtCW-Fans ein "must have".
Der Clou dabei, du brauchst KEIN Return to Castle Wolfenstein, um Vendetta spielen!  es ist ein "Stand Alone-Spiel" mit eigenem Installer. Also einfach downloaden, installieren und epische Abenteuer erleben!
Data

Details
SP-Map
Typ
exe
File name
vendetta_setup.exe
Size
845 MB
Downloads
1420
Author
Yo$hik
Website
Homepage
Created
05.12.2013